If you are thinking of starting your AAT qualifications, then you probably have some questions that need answering. You aren't the only one, and that is why we have gathered together the top 10 common AAT questions for you to browse through (Please click the questions for the full articles from our FAQs page):
Yes, with 150,000 global members, the AAT is the UKs leading qualification and professional body for accounting technician and finance staff. It is well recognised by employers and is often an entry requirement in the accountancy profession. The AAT qualification is also recognised internationally.
The normal starting point for the AAT is Foundation (Level 2). There are no entry requirements and you don't need any previous knowledge, experience, skills or even work in a finance role to get started!
If you have some experience but unsure which level to start on then you will need to take the AAT Skillcheck. This will help you determine which is the perfect starting point for you based on your current knowledge and skills. You can find the AAT Skillscheck Here.
We offer three different packages:
Basic package or self-study (all materials included, but no tutor support);
Standard package (learning materials and uncapped personal tutor support);
StandardPLUS package which included everything in the Standard package along with the AAT fees (AAT Registration, AAT exams fees and admin fees).
If you enrolled on a tutor supported package, then you would submit the progress tests and practice assessments to your tutor for marking. Your tutor would also be available to contact if you get stuck (they will proactively contact you too just to check everything is on track).
Distance Learning is very flexible and has a "roll on, roll off" programme which means you can start at any point in the year! The great thing about Distance Learning is that you can study your AAT course from the comfort of your own home at a time that suits you – all you need is a little dedication!
Not at all – you will be undertaking all of your studying from the comfort of your own home. When it comes to sitting your exams, you will be able to sit them at an approved exam centre near you. You can call us for more information about this, or, you can visit the AAT's "Find an assessment venue" here.
This all depends how much time you are able to devote to your studies:
The amount of hours you study per week depends on how quickly you finish the course. Examples below based on 8 hours per week of study:
We do have combined courses available. Please check our courses page for more information!
The more you study, the faster you can achieve!
Please contact us on 01392 435349 or email me at [email protected] if you would like more detailed guidance on the recommended study hours for each qualification.
Shown below are our current pass rates across all three AAT levels ~ as can be seen, well in excess of the overall national average!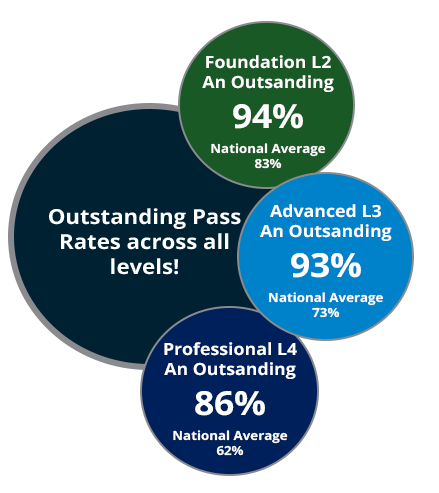 We pride ourselves on being able to respond really, really quickly, so we will generally reply to your emails on the same day. We work late on Mondays through to Thursdays so you might receive an email from us during the evenings too!
We will generally mark your work within 48 hours (during working hours) but often within 24 hours. So, you won't have to wait long before you have a result along with detailed feedback in order that you can get back to your studying.
No-one is guaranteed a job. However, if you are looking for a job in accountancy, you are far more likely to get one if you have an AAT qualification, as opposed to not having an AAT qualification (or an alternative accountancy qualification).
Volunteering is a fantastic way to get the job experience you need. Local charities and small business will always need someone to help with their books , and volunteering for a few hours a week will be very valuable for them, yourself and your CV!
The quickest way to enrol is via our website shop here or you can enrol over the phone.
If your employer is paying then please get in contact with us and we can send you an enrolment form for your employer to fill in.
I hope that you found this useful!
If you would like to find out more, or need any questions answering please give me a call on 01392 435349 or email me at [email protected]