About Accountancy Learning
Specialising in the delivery of AAT training since 1992, Simon and Prue Deane set up Accountancy Learning (in Exeter) on January 1st 2012 (yes, we were working on New Year's Day!)
Starting out with just 2 members of staff (aside from us), we grew rapidly and as of 2019, we now have a dedicated team of 25.
We are passionate about delivering the best possible service to our 1,300+ AAT students. The Standards and Behaviours instilled across our whole team can be summed up by one core goal:
"We will continually strive to exceed our customers' expectations and pay attention to every detail".
We want our students to graduate with top marks and become 'gold standard' bookkeepers/accounting technicians, and… to have enjoyed and grown as individuals during their AAT journey with us.
Delivering AAT via distance learning across the UK and AAT Accounting Apprenticeships in the South West, we were thrilled to be a multi-awarding winning AAT training provider:
WINNER: AAT Distance Learning Training Provider of the Year 2019
SHORTLISTED: AAT Apprenticeship Training  Provider of the Year 2019
SHORTLISTED: AAT Distance Learning Training Provider of the Year 2020
We also WON the AATs 'Champion Award' for two years running in 2018 and 2017.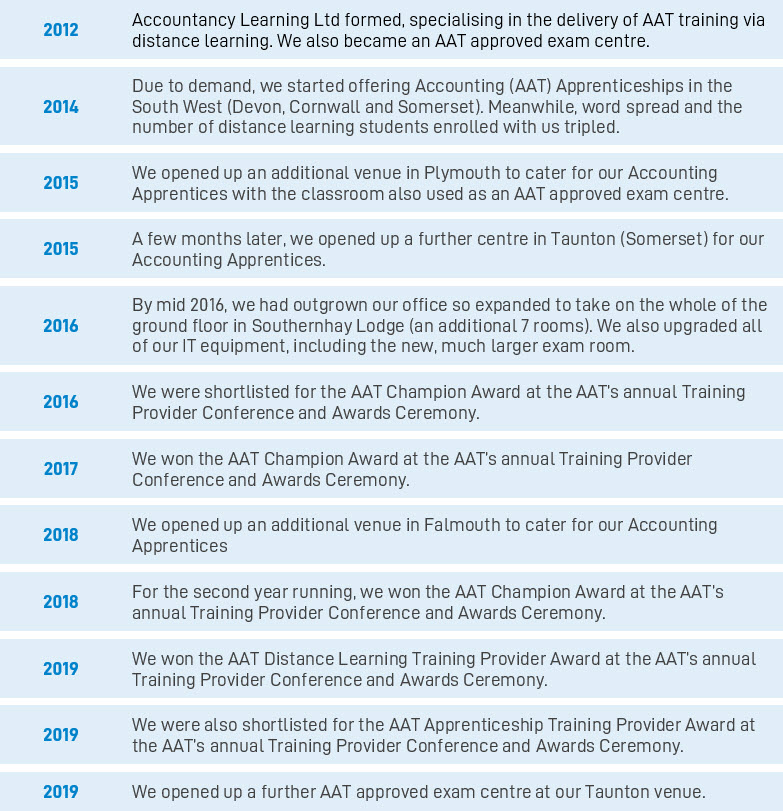 We're a friendly, close-knit team and we like to think of ourselves as a 'rather large family'! We have plenty of fun inside and outside work – please see our team page to read more about us all and do see what we're all up to on our Facebook page.
Whether or not you choose to study with us, we hope you find our website useful and informative, particularly our FAQs page which is packed full of 'all things AAT'.
AAT is a terrific qualification that can lead to a wonderfully rewarding career within the world of accounting. Good luck!