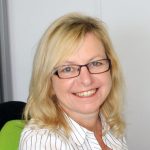 I would not have got there without Accountancy Learning
"My original goal was to complete Level 2.   I had the opportunity of studying AAT about 10 years but thought it was beyond my capabilities and didn't give it a second thought.  Back in 2015 my employer offered me the chance to study for Level 2 and this time I relished the challenge.
I enjoyed it so much I continued on to Level 3 which I have now also passed and feel really proud of my achievements although without Accountancy Learning I would not have got there.
Accountancy Learning was the training provider used by a local company and although we had so many problems with this company (not turning up for exams twice, vacating their premises with no notice, etc, etc) Accountancy Learning was the one stable part of our training.  They stood true to their word and continued our studies even though they were probably out of pocket and I am really grateful to them.
How did you find the learning materials, admin team and tutor support?
I found all the learning materials really useful.  A colleague at work is using a different provider and receives nothing like this so she is changing to Accountancy Learning for her Level 4.  The admin team are always friendly and helpful, as is the tutor support.  You never feel like you are on your own.
I also found that the personal phone call from Prue at the start of my training, explaining how the training worked was so helpful.  That personal touch made a big difference and gave me so much more confidence.
What would you say to someone looking to start out on their AAT journey?
I would say to definitely go to Accountancy Learning for your training as your first stop!  Secondly, don't try to understand the workings of double entry and debits and credits.  As it states in the training, it's been like that for thousands of years and it works so just accept it.  That was the best advice I was given and allowed me to continue and understand it all.
Thirdly just enjoy it.  I'm now 53 and should have done this years ago but I think being older I could enjoy it more and for me the satisfaction of passing each exam and sense of achievement is greater each time as it does get harder to study the older you get."
I found the study material very easy and simple to understand, well structured and informative.
Very easy enrolment system.
A great place to study for your AAT qualification! 🙂 If I was to choose my learning provider again, I would make the same choice.
I just started a course now, so I can't write a correct review yet, but the presentation is helpful and understandable.
Provides excellent bookkeeping courses
The course (Level 2 Bookkeeping) was affordable and well structured and the bite sized tests at the end of each module were great.
They also provide brilliant and well structured learning tools. I'd 100% recommend them. x
responsibe, friendly, patient and really helpfulyou have to try
I have only just started the course, so far so good. My books arrived quickly, and I was able to access moodle the day after enrolled.
If you want to study AAT - Accountancy Learning is the best option! Very helpful team - respond quickly to all questions!
I started studying with them for the AAT level 2 bookkeeping and I found the materials very helpful and intuitive. Great job guys!
Their learning materials are excellent and the tutoring that I received was invaluable.
excellent material and support!!!
Very helpful. Can't wait to continue my development.
Amazing, helpful tutors. Made it easy and stress free
Easy and quick to sign up for a course. The online course is easy to work your way around and the course content is good. So far so good!
Prompt and quick emails from the tutors. Incase if the tutor is not available someone is always there to clear your query.
Great course materials, staff very helpful when you have a question.
Fantastic experience studying Level 3 AAT accounting at Accountancy Learning Ltd. Looking forward to studying Level 4 in the New Year!
Really helpfull staff from helping me choose my course to ongoing support. Such competitive prices with excellent support.
Support has been really good when I've needed it.
The learning content is very clear.
I cannot fault my experience with Accountancy Learning. They have done everything they said they would.
Really good way to learn from home.
Very kind and helpful people. I would recommend them to anyone who would like to study from home
Accountancy Learning were helpful and answered any questions I had before choosing the course.
Tutor was very quick to touch base and offer any support. Books arrived in good time a good quality
Amazing place! I now have a career in Accountancy thanks to accountancy learning. Very much recommended!
Well written and easy to understand modules along with supportive and helpful tutors. Fantastic service
The learning materials are well structured and the team is professional and helpful.
Also I know The Accountancy Learning Team is always ready to help, to support me and to answer to my questions. Thank you.
From initial contact I have received friendly, professional and informative responses to queries which makes me feel that I am a valued customer and that the individual staff members want to find ways to help me.
Excellent company to learn with - so supportive
I thoroughly enjoyed studying for my AAT through Accountancy Learning, the whole team were very helpful and quick to answer any queries I had and my tutor always gave very helpful feedback when marking my test papers.
I have enrolled with accountancy learning for bookkeeping bundle (level 3) about a month ago, so far they helped me with everything I needed, they replay same day to my emails and that makes them great!
Excellent customer service when contacted; quick to respond and always helpful and understanding. Would highly recommend as a provider.
Excellent customer service, really good learning resources and lots of options for the AAT course (self-study, tutor support, etc.).
Really friendly and the course is really good, I like the form and the content!
Kamila Krupcznska-Mieluch
Feel like I should have had the opportunity to extend to accommodate life's little challenges.
Really helpful and encouraging
Content and communication has been great so far.
The tutors are both friendly, helpful and knowledgeable and are there to support you all the way. Highly recommend this company
I'm only on my second module of AAT level 2 but so far the support I've received from my tutor by e-mail has been great.
Very pleased with the study provider. Mainly because of the cost. Very good choice to decide what level of support you need.
Learning materials are brilliant and well structured, easy to understand. I got 98% on my first progress test.
The communication has been great. They have answered any queries or questions I have had. Going to enjoy continuing my learning with them.
I found the place small and friendly, very easy on the nerves when taking exams. I have just pasted AAT Level 3 Advanced Book Keeping
Very pleased with the study provider. Mainly because of the cost. Very good choice to decide what level of support you need.
Very good and user friendly content.