With so much choice out there, how do you know which AAT Training Provider to enrol with?
Undertaking an AAT qualification is quite an investment, especially if you choose to buy a 'bundle' of AAT courses, so you need to be comfortable and secure in your own mind that you have chosen a training provider who is right for you.
So how do you find out which provider is going to be the best fit for you?
There are a few key things that you should look out for straight away:
Google Search: When you are searching (e.g. on Google), you must make sure that you choose a training provider that is AAT Approved – look out for the AAT Approved logo which should be displayed somewhere on their website – see below:
AAT Website: You can search through a list of AAT Approved Training Providers via the AATs website homepage.   This is very straight forward to do – just click on the link for '2 Find a training provider' as shown below: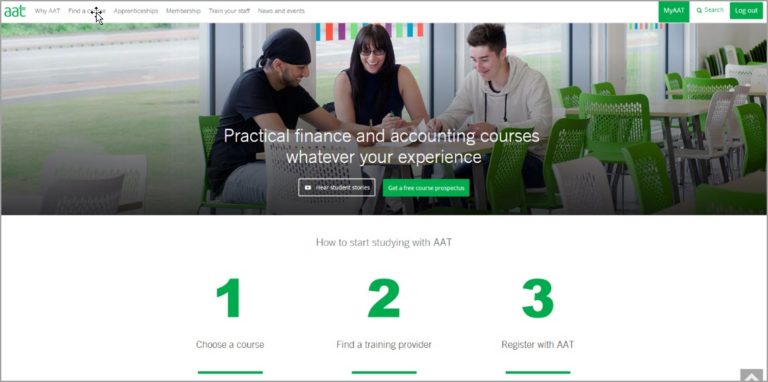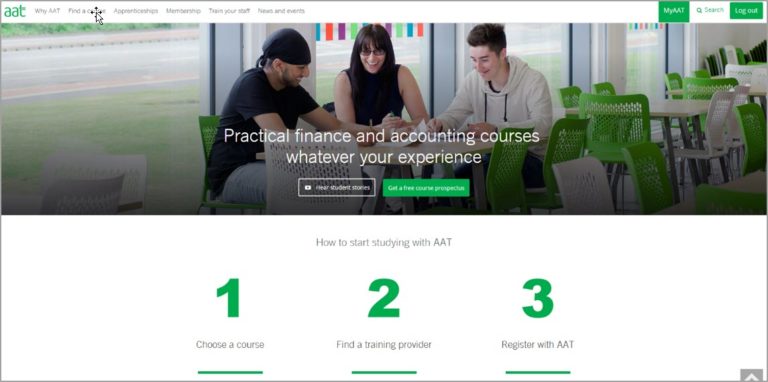 Or simply click on the following link: https://www.aat.org.uk/training-providers/search
From here, you will be able to choose a training provider according to the type of study method offered i.e.
Classroom learning
Distance/Online learning
At this point, you will need to be clear about the study method you are interested in pursuing – if you would like more information on what type of course might suit you best, please read through our article "What's the difference between a college course and distance learning?"
OK, so when you go onto the AATs 'Find a Training Provider' site, there are a couple of things you should be aware of, these are:
The first display boxes relate to promoted training providers – these are actually 'paid for advertisements', a bit like the ads you see on Google, so for a wider selection of training providers, you will need to scroll down the page.
Another thing to note is that you will be asked for your postcode in order that you can see all the AAT Approved Training Providers in your area.This is absolutely fine if you want to enrol on a college taught course (classroom learning), but if you want to study via distance learning, the postcode is totally irrelevant, as your training provider can be based anywhere in the UK. Distance Learning can be geographically distant, but with regular contact by phone, email or even Skype, it can be very personal and can feel very close.When it comes to exams, you can sit those close by to you by checking the AATs 'Find an Assessment Venue' site here https://www.aat.org.uk/assessment/assessment-venue/search
To ensure you get 'the full picture' as it were, you have to make sure you scroll down the AATs website page to see the other training providers available.
Within each training provider block, do make sure you click on the relevant buttons/tabs to find out more about each provider e.g.
Do they offer the course you are interested in?
Do they have a choice of study packages?
How much does the course cost?
Do they offer any funding e.g. 24+ Advanced Learning Loans, ELCAS, Apprenticeships?
Do they offer payment plans?
Refine your search:
Whether you've used Google or the AATs 'Find a Training Provider Site', we recommend that you check out 4-5 training providers that you like the sound of. You should visit their websites, request some further information and ideally, phone them up too, so you can get a flavour of what they are like as an organisation and how well you relate to them.
Key Questions to ask if you're interested in a DISTANCE LEARNING course:
What are their AAT exam pass rates? Are these rates based on the AATs results which are published annually?
Has the training provider won any awards e.g. AAT awards would be a key one to look out for?
What is included in the course fee? You should look out for potential hidden extras such as: AAT Membership admission/membership fee, text books, postage and packing,
exam fees and admin/invigilation fees.
It's perfectly fine for these additional costs to be added to the advertised course fee, but you need to know about them from the outset when comparing prices (not all providers are transparent about their pricing).
How long has the provider been offering AAT courses? Do they have experienced, well qualified tutors? Importantly, what is their tutor to student ratio? You will want to ensure that you get sufficient tutor support when you need it.
How easy will it be to get hold of your tutor if you need help? If you phone up, will you be able to speak to a tutor straight away? Will you have the same tutor throughout your course?
Will your tutor support be capped e.g. is there a limit on how many times you can contact your tutor for help?
Many students enrol on a distance learning course because they are at work during the day, so intend to study during the evenings – will your training provider be able to offer you an 'out of hours' service?
What learning styles or methods do they use e.g. classroom delivery, online lectures, narrated interactive presentations, other supporting resources such as text books and revision materials? Do they offer what will suit your own learning style?
Will the provider be able to offer you some sample materials to try out (before committing yourself to purchasing a course)?
Key Questions to ask if you're interested in a CLASSROOM based course:
If you opt for classroom based learning, you obviously may be limited in terms of choice, since there may not be many classroom based courses in your area. However, as with studying via distance learning it would still be well worth asking a few questions:
What are their AAT Pass Rates; have they won any awards; what does the course fee include?
Whilst this should be shown in their prospectus and on their website, make sure you are very clear about the course dates and times – also find out about the more practical things such as parking/travel arrangements and so on.
What methods of learning are available – how much time will need to be allocated for home study each week?
Is the provider subject to Ofsted inspections and if so, what grade did they achieve? (This obviously isn't foolproof as the grade will be an 'overall' one, as opposed to a grade relating to a specific course. You could of course delve deeper into the publicly published report…)
What will happen if you can't attend certain days/weeks because of work or family commitments?
Do you have to sit your exams on set dates with the rest of the class?
What will happen at the end of the classroom programme if you haven't yet finished – will they still support you?
Bundled Offers:
Bundled offers (e.g. purchasing more than one course at the same time) can sound attractive, especially if there is a discount involved. However, just a word of warning here:
If you have no prior experience in accounting, you may simply find that 'accounting isn't for you'! See if you can try some sample materials first, just to make sure you enjoy the subject and that you're happy with the learning resources used.
Be sure that you can fully commit to the timescales involved with the courses you intend to undertake, especially if you're looking at purchasing all three AAT levels in accounting – this is a big investment and in our experience, personal circumstances (family commitments, redundancy, ill health and so on) often change and sometimes students find it is not possible to complete what they started. If you are unable to complete a course, you may not be able to get a refund.
Gut Feeling
At the end of the day, having done your internet research, having spoken to providers, having probed, quizzed and cogitated, you will end up having to go with your 'gut feeling' in terms of deciding which provider is likely to be the 'best fit' for you.
You might find it useful to create a checklist of questions to ask each provider and then note down the answers for each one. You could also identify the advantages and disadvantages of each provider and prioritise them in order of importance.
Good luck!