Ethics for Accountants!
My lovely neighbour Iris came round for tea and cake yesterday afternoon, and she whooped with joy when she saw my "Ethics for Accountants" book on the table. She had recently visited a friend upcountry (a young relative of hers), who is training to become an accountant. Quizzed about values and ethical standards, the young man dismissively proclaimed that "we don't bother with Ethics in Accounting and Finance, we are solely concerned with profits."
It is disturbing to see such a cavalier attitude still exists, (but he is young and perhaps naïve, so hopefully his continued professional training will have an impact) and it clearly isn't going to enhance the reputation of the accounting profession in the eyes of the general public. We can help this by adhering rigorously to our own fundamental ethical principles and by   measuring every single work-related decision against them.
What's more, in an age of global information technology and pressing environmental concerns, ethical business credentials are becoming ever more significant. Consumers are waking up to their power and using it to force businesses to change. Many of us now refuse to buy clothes made using child labour, or to buy our coffee from a chain involved in tax evasion; we cut down on carbon-intense travel options, and move our current account to a provider that does not invest in fracking or arms dealing.
If our customer relationships are purely based on price and profits, then when another supplier offers a "better deal", we will lose our customers. There are a multitude of "swap" or "transfer" websites. However, if our customer relationships are based on trust, then our customers will not "swap" for a discount or lower price – so ultimately our profits will improve through increased customer loyalty.
This trend does not stop at accounting services: prospective customers and clients are increasingly better informed and more demanding about ethical policies and sustainability measures they expect from us professionals. If we don't act on this, they will take their business elsewhere.
So if you, like me, are currently preparing for your Synoptic exam and are feeling tempted to think of Ethics as a bit of a gimmicky add-on, think again:
Our future professional success and yes, our profits too, will depend on how closely we keep to, and are seen to keep to, our fundamental ethical principles, and how robust and well-promoted our Corporate Social Responsibility policies are. Or, slightly altering a well-known bumper sticker: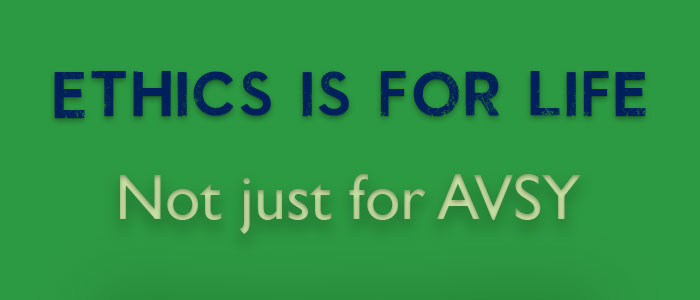 You can read more about Ethics in Accounting on the AAT's website here (you'll need to log in to your MyAAT) and on the ICAEW's website here.
Written by Marion Watson