In support of ELF, the team at Accountancy Learning organised a charity bake sale that brought together delicious treats and generous spirits.
The Exeter Leukaemia Fund (ELF) is an organisation that we work with on a yearly basis to raise money for and to highlight their work. We've got history with them and we thoroughly enjoy getting involved!
We also held a bake sale last year for ELF, head here to see the Instagram post: Accountancy Learning (@accountancylearning) | Instagram
In this blog post, we will share some information about ELF and the work they carry out to help people, as well as some details of the big day itself.
Introducing ELF..
The Exeter Leukaemia Fund is an organization dedicated to supporting leukaemia patients and their families in our community.
ELF is a registered charity providing vital support to patients with blood cancer and other disorders, who attend the Haematology Centre at the Royal Devon and Exeter Hospital (RD&E).
ELF was founded in 1980 by Dr Miles Joyner, a consultant haematologist at the RD&E. Dr Joyner wished to improve the lives of patients with blood cancer and blood disorders through improved facilities, better equipment and the funding of research.
Registered as a charity in 1987, today ELF is the leading patient-led support organisation for families affected by blood cancer in the Southwest. Over the past 35 years, ELF has:
Helped fund and build the RD&E Haematology Centre
Funded the building of a critical care unit at the RD&E's Yarty ward, the Chevithorne family suite
Funded Haematological research projects
Funded NHS nurses and support roles
Funded specialist equipment and fittings for the Haematology Centre.
As you can see from the image below, we had a wonderful selection of goodies on offer, from rocky road to baked cheesecake, to cheese swirls; it was a great turnout from the whole team!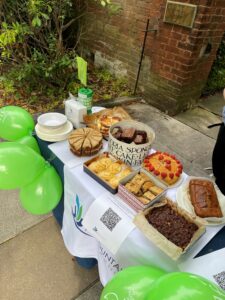 The final result
Thanks to the incredible support of both our community and team, the bake sale surpassed our fundraising goals!
Last year we reached £110, this year we managed to double that and hit a whopping £230!
We are so happy to have raised this amount, the funds raised will directly contribute to the Exeter Leukaemia Fund's mission, providing essential resources to leukaemia patients and their families.
The impact of these funds will be felt through medical treatments, emotional support, and financial assistance, easing the burden faced by those affected by leukaemia.
Something important for us is that the success of this bake sale highlights the transformative potential of collective action, demonstrating that together, we can bring hope, support, and a touch of sweetness to those who need it most.
Thanks again to ELF, the Accountancy Learning team, all of the local businesses and customers. We look forward to the next one!
How can you help?
We encourage readers to support the Exeter Leukaemia Fund or other charitable organizations, reminding them that even small acts of kindness can create significant change in the lives of those facing adversity.
There are various ways that you can donate to support ELF, click this link to see how: Donate | Exeter Leukaemia Fund (elfcharity.org.uk)
Head here to see the rest of our charity work: Giving Back Archives – Accountancy Learning
For any other questions, please get in touch with us, we are always happy to help.
Call us: 01392 435349
Email us: [email protected]
Message us: Facebook