Welcome! Let's talk about AAT Exam Prep..
Navigating the world of AAT courses and exams demands dedication, focus and the implementation of effective study strategies.
Regardless of whether you are studying for AAT Level 2, Level 3, or Level 4, proper exam prep is essential to get the job done.
In this blog post, I will aim to share five valuable tips to help you prepare effectively and feel like you are ready to rock with your next AAT exam; and to increase your chances of securing your desired results!
Let's get stuck into the first tip:
1. Create a study schedule
Developing your own personalised study schedule is crucial for best organisation!
Managing your time efficiently will make it feel like it stretches a lot further. A trick I can share with you is to start by identifying the date of your exam and work backwards to allocate study time for each subject or topic.
Also, you might find that breaking your study sessions into smaller chunks could make specific goals a bit clearer and more approachable.
We offer a study support guide and an individual learning plan (ILP) as part of your course package – try it if you haven't already, and you might be surprised how much it can help.
P.S. Don't forget to be kind to yourself and allow regular breaks to relax and recharge!
2. Understand the exam structure and syllabus
Ensure to take some time to get to grips with how the exam will be laid out and what the syllabus looks like for your respective AAT level.
It never hurts to do a bit of extra research, if you familiarize yourself with the exam format, the questions, the weightage assigned to each topic, you'll be sure to feel more confident on the day.
It's also worth paying attention to the learning outcomes and the specific areas that will be assessed as this can guide your study plan and help you to focus on critical areas!
3. Utilize study resources
There is plenty of resources out there to take advantage of…
Take a look at textbooks, study guides and any other online learning materials that align with the syllabus. Utilizing these resources can allow you gain a comprehensive understanding of the topics and concepts.
Plus, online platforms like forums, study groups, or educational websites have heaps of content to help. If you have any fellow AAT students that you can reach out to for help, or even anon-studying friend to bounce some ideas from, it all gets the brain working!
The AAT's book of essential study support: Your_little_book_of_essential_study_support_0.pdf (aat.org.uk)
4. Practice progress tests
One of the most effective ways to prepare for an exam is to practice the real thing!
Have a go at your progress tests, practice assessments and mock exams to get used to what the official exam will feel like.
The next step is to analyse your performance, find areas of weakness, and focus your revision efforts accordingly.
Having access to feedback and mark schemes can also be super useful as they offer valuable insights into what is expected when your exam is being marked.
For some more exam prep and more technical, AAT-focused tips, check out this blog post from 2018, written by one of our AAT Tutor's, Chrissy: How To Be An AAT Exam Preparation Pro – Accountancy Learning
5. Review and revise regularly
Consistency is key!
Keeping up with your revision will really pay off, I mean it! If you leave it for too long, you will not retain information as effectively and you will run the risk of missing bits of fundamental understanding.
We have all been there and tried to cram everything in at the last minute, but no one enjoys that and rarely does it pay off.
Allocate regular revision sessions into your week and throughout the entire study period. Ensure you review notes that you have taken and highlight key concepts – try using flashcards or mind maps to aid memory retention! (Visuals are my favourite way to remember things!)
Getting into the habit of regularly revising will build a solid foundation of knowledge and banish any last-minute stress.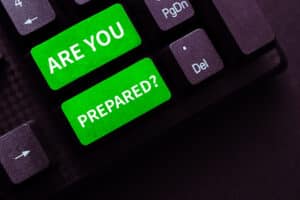 You can do this!
Preparing for an AAT exam requires commitment, discipline, and effective study techniques.
But hey, if you have made it this far into this blog post, you probably have those things in abundance.
By understanding the structure and syllabus, which resources could work best for you, practicing tests and ensuring you review your performance regularly, you will no doubt find that you are well equipped with the tools to confidently conquer your exam.
Remember to take care of yourself and seek support when things feel like too much, getting your exam results are important but being healthy is even more important.
I hope this guide has been helpful in detailing how to prep for an AAT exam, with all these tips in check, I think you can excel in your AAT journey and pave the way for a wonderful career. Wishing you the best of luck in your upcoming exams!
Not yet enrolled, or preparing for an exam?
For more information on the AAT courses we offer, head here: Courses – Accountancy Learning
If you're new to the AAT and Accountancy Learning but you would like a clearer picture of where you should start, the AAT Skill Check service is a great tool: AAT Skillcheck | AAT
If you have any questions, please get in touch with us, we are always happy to help.
Call us: 01392 435349
Email us: [email protected]
Message us: Facebook