COVID-19 and Accountancy Learning's response to the challenges set by it
Unlike a traditional College set up, our training is designed for working with students from a distance. Distant but not remote!! We will therefore continue to provide tutor support "as normal" over this period of uncertainty and social distancing.
Covid-19: Ensuring the continuity of our normal work patterns 
From the week beginning 16 March, we have been trialling 'home working' for our Tutor team (some have always worked from home anyway) and our Operations team.
Our telephones operate using a VOIP (Voice over Internet Protocol) system, so they work from home in exactly the same way as they do when we are all working in the office – we've been testing it all week and it works perfectly. We are also using Office 365, so we are able to access all the documents we need remotely. For those not familiar with Office 365, there is a 'Teams app' enables us to have our usual 'first thing in the morning' briefings (a bit like Skype or Zoom) as well as all our other 'team meetings'. There is also a 'chat' facility to liaise with another as needed.
From the week beginning 23 March, many members of the team will be working from home (in particular, those who are carers), however, some of us will continue to come into the office on a rota basis (subject to the latest Government guidance).
In summary, when you contact or phone us, you shouldn't notice any difference at all (although be aware that many of us in the office are 'cat lovers', so you my hear the odd 'miaow' in the background!)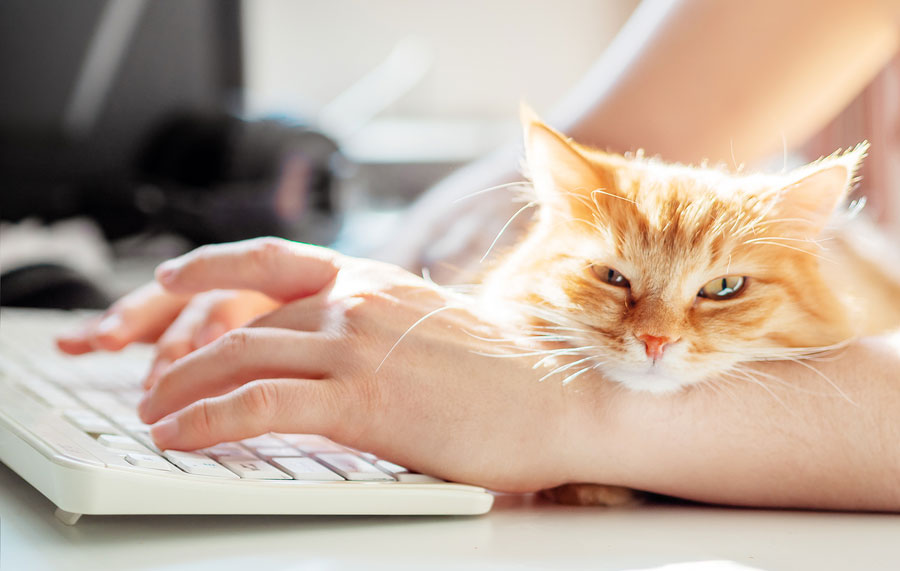 Covid-19: Ensuring the continuity of our normal course delivery
Not only do we have our virtual learning environment for you to access your interactive on-line learning materials but, additionally, you have the use of traditional study manuals at Level 3 and 4. Provided the publishers continue to supply us and the postal system continues to work, we will continue to supply these as needed. The AAT on-line study resources are also available to you (provided you are up-to-date with your subs!?!)
All our tutors are super qualified and experienced in helping and supporting students either over the telephone, via email or via conference calling software such as Office 365, Skype or Zoom. These facilities will enable us to carry on working with you to ensure you continue to progress through your studies. We always try to maintain regular contact with you, however, in between times; do please contact your personal tutor directly if you have any study query – that's what we are here for. What tutors like even more is to receive a steady flow of progress tests and practices assessments from their personal tutor group for marking and feedback. (Don't tell them we told you this!?!) These marked tests are the "proof of the pudding" in terms of measuring study progress.
In summary, you should have access to all of the learning materials you need to maintain your studies and keep to your learning plan.
However, we know that life is somewhat unpredictable at the moment – hence we have unilaterally offered all of our current distance learning students an extra month of study support for free and we will review the situation again in one month's time.
Additionally, if any of our current students suffer any serious set-backs, please liaise with us to discuss a formal course "pause". This means that when you are in a position to re-start your course, you can simply continue from where you left off.
Covid-19: Apprentices (Devon, Cornwall, Somerset)
Following the latest Government advice, Accountancy Learning have made the decision to cancel all "drop in" sessions from Monday 23rd March as they are not considered 'essential' to our being able to support our apprentices. However, tutors will maintain regular weekly contact with their apprentices on a remote basis, as described above.
Covid-19: AAT Exams
For students based in the Southwest, you will see from the "Sit your Exams with Us" page that we are not taking any new AAT exam bookings. However, we are planning to accommodate all those who have already booked to sit their exams with us (this obviously may change in line with the latest Government advice, so do please keep checking our website which we are updating daily.
Finally…
A number of our students are not currently in work and their AAT studies are part of their plan to return to work or move careers. If at home, one can feel a bit isolated from what is happening and social media can sometimes put things out of perspective. We're sure you are all fully aware of the current government guidance  but for more information about the current situation, please click here
We would encourage you to be aware of the symptoms of Covid-19 so that you may be able to spot them either for yourself, your colleagues or a family member. These include a cough, a fever and difficulty breathing. Please see the NHS guidance or PHE website for further details.
Stay safe and keep washing those hands!
Prue and Simon
Directors
Accountancy Learning